Product Description
Model NO.: SCV102 Theory:
Cryolipolysis
Portable: Non Portable Vacuum: 10 Levels Adjustable Treatment Handle Sizes: 250*50mm, 145*50mm, 140*50mm Cooling System: Semiconductor + Built-in Water + Air Cooling Voltage: 220/110V Temperature: -11 Specification: 93X63X54CMX1PC; 83X54X44CMX1PC Type:
Slimming Machine
Application: Salon, Clinic; Medical Center; Medical SPA Freezing Temperature: 0 - -11 Degrees Centigrade Screen Size: 10.4 Inch True Color Touch Screen Dimensions(L*W*H): 300*400*900mm Weight: 39kg Packging: Standard Trademark: Monaliza Origin: China Product Description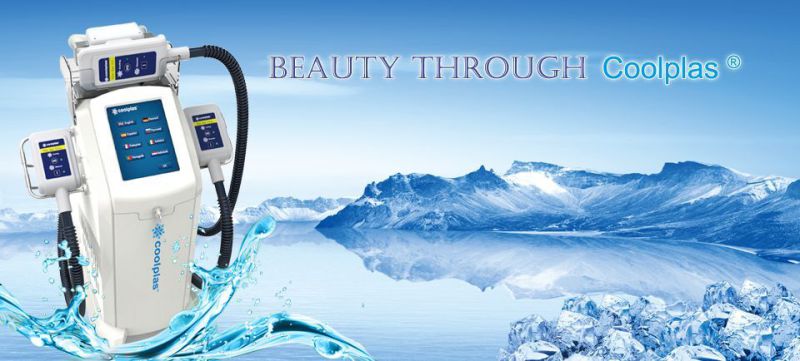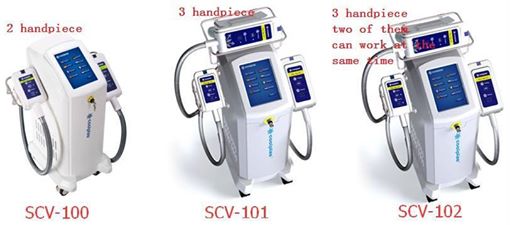 What is cryolipolysis machine?
Cryolipolysis is a breakthrough, non-invasive procedure that uses cooling technology to noticeably eliminate fat without surgery. Your doctor will determine if you are a good candidate and work with you to determine the best treatment plan during a one-on-one consultation.
Good candidate for cryolipolysis machine
Cryolipolysis is not a
Weight Loss
solution for people who are obese, or a substitute for surgical methods such as liposuction. Good candidates have noticeable bulges in certain areas they'd like to get rid of. Your doctor will determine if treatment is right for you during a one-on-one consultation.
What happend during the treatment?
You and your clinican first select the area(s) to be treated. Your clinican will position the device on your body. The device will then draw the bulge up between two cooling panels. The sensation is a firm pull and pressure - enough of a pull to ensure the selected tissue will be cooled most efficiently. An hour or so later, depending on your needs, you're done.
What does it feel like?
As the cryotherapy begins during the first 5 minutes, you will feel pressure and warm,after 5 minutes you will feel cold .In the whole process the feeling of discomfort soon dissipates. Many people read, work on their laptop, or even take a nap during their treatment.
How long is the treatment?
During your consultation, your doctor will discuss how much time should be allotted based on your individual treatment plan. A typical treatment can last between 1 minutes to one hour.
Can i return to normal activities after my treatment?
Yes you can. The procedure is completely non-surgical, so typically you can return to normal activities immediately. Some patients experience redness, minor bruising, tingling, numbness or discomfort in the treated area, but this is temporary and will resolve completely. Often times, patients return to work after the session is over.
What will my results be ?
Typically, each cryolipolysis treatment results in a noticeable reduction of fat in the treated area. After the initial treatment is complete, you can attain further reductions with additional treatments, resulting in even more fat loss. Some patients find that just one treatment fully addresses their goals.
When will i see results?
You may start to see changes as quickly as three weeks after your treatment, and will experience the most dramatic results after two months. But your body will still flush out fat cells and continues doing so for up to four to six months after treatment.
Is cryolipolysis safe?Painful?Are there side effects?
Cryolipolysis is CE and RoHS cleared for the flanks (love handles) and abdomen and is proven to be a safe and effective treatment. Typically, there is minimal to no downtime after the treatment though patients may experience temporary pain or discomfort. Side effects can include redness, bruising, swelling, tenderness to the touch, cramping, itching, tingling, and numbness. Numbness can persist up to several weeks after a procedure. Your doctor can talk to you more about what to expect during and after treatment when you meet for your consultation
Are the results permanent?
When you have your cryolipolysis treatment, the affected fat cells will be eliminated. As long as you maintain your weight with your normal diet and exercise, your long-term results should remain stable.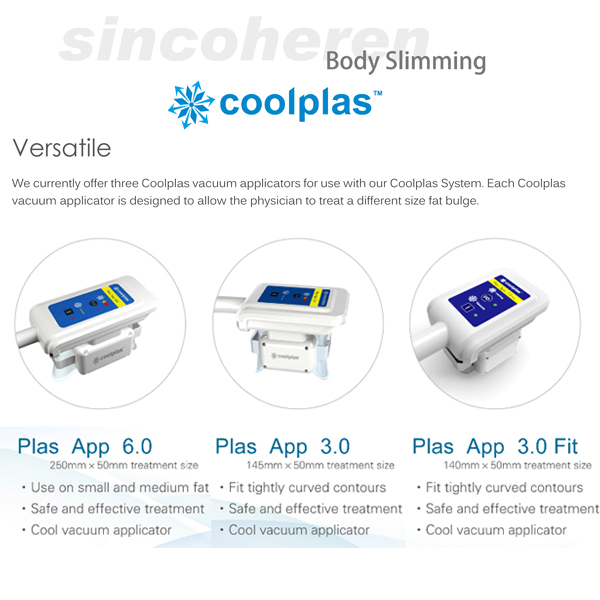 Coolplas Cryo Specifications 

Temperature rage

-11°C~0°C

Temperature Accuracy

±0.1°C

Treatment area size

Max: 350mm×45mm
Mid: 250mm×45mm
Min: 150mm×45mm

Negative pressure

0-0.07 M Pa

Duration

1~60min

Electrical requirement

230VAC 50Hz 1500W

Dimension(W×D×H)

300mm×400mm×900mm

Weight

30kg
Criolipolisis-Coolplas 
Funciona:Adelgazar 
Ficha Tecnica: 
Frio+Succiòn 
Temperatura: 
Desde-11 hasta 0 Centigrado
* Aplicacion:
El aplicador de enfriamiento entrega controlada con precisión la energía de refrigeración a la zona deseada de la reducción de grasa. Cuando las células de grasa están expuestos a refrigeración precisa, desencadenan un proceso de eliminación natural, y se eliminan gradualmente a través de procesos metabólicos normales del cuerpo.
El ciclo de tratamiento conjunto es muy fresco y cómodo, seguro, indoloro, no invasivo, no quirúrgico, no-agujas, ni incisiones, y no hay tiempo de recuperación .. 
* Caracteristica 
rango de temperatura
-8ºC~0ºC
Exactitud de la temperatura
±0.1ºC
tamaño area de trataiento
Mid: 250mm×50mm
Min: 150mm×50mm
Fit: 140mm×45mm
La presión negativa
0-0.07 M Pa
duración
1~60min
requisito eléctrico
230VAC  50Hz  1500W
dimensión (W×D×H)
300mm×400mm×900mm
peso
30kilo
>Sobre nosotros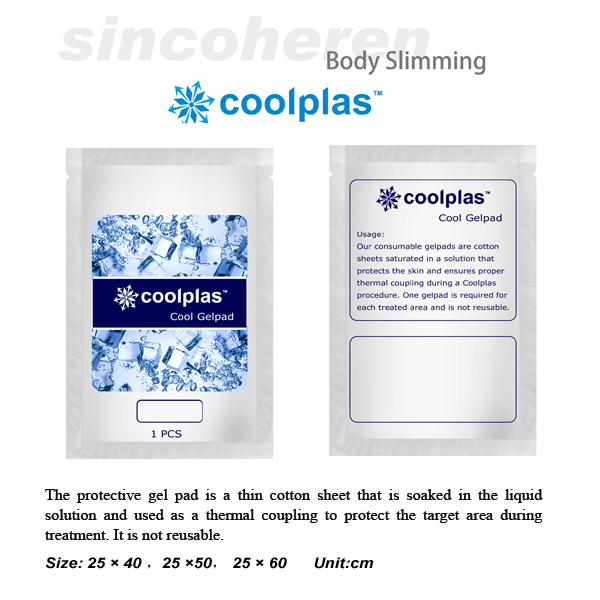 somos fábrica de maquina de belleza, Nuestro producto principal IPL serie, láser serie,co2 laser. RF serie, KUMA Shape serie , cavitación , Elite, LED-PDT,coolplas  etc 
hemos fabricado maquina de belleza más 15 anos. somos primera empresa que fabricar esta tipo maquina en china. tenemos nuestro propio departamento de investigacion y desarrollo,la fabrica,los departmentos de ventas internaciolaes,distribuidor en el extranjero y departamento del servicio post-vente. y oficina tecnica en alemania y austraria  .
Product Description
The system combined with main body and treatment handles, with 10.4 inch colorful touching screen, there are three treatment handles according to the different area.
Different handles for different treatment area:
Large handle: Cavity volume: 350*45 *120
Effective treatment area: 250*100
Medium handle: Cavity volume: 250*45* 100
Effective treatment area: 110*80
Small handle: Cavity volume: 150*45*80
Effective treatment area: 90*60
Unit: Mm
Advantages:
Non-invasive, non-surgical
Safe and comfortable, the process is almost no pain, convenience
Without rest, treatment is simple and safe, you can immediately return to normal life
Who is suitable?
Would like sculpture local obesity
Waist and abdomen dewlap
Postpartum local obesity
Course of Treatment
Each course about an hour, it is recommended 2 or 3 times, at intervals of three months. During the treatment will feel cool and anaesthesia or swelling, may be continued a few days, this is normal, after that treatmentcan immediately return to normal life.
Will it be fat again after the treatment?
It can be effectively reduced by an average of 22% of the fat layer, Keep diet and exercise, that is able to maintain the results.
Irregular eating will affect the treatment effect.
Contraindications
Cold heavy globulin hematic disease
Sudden cold induced sex blood in the urine(cold allergy) urticaria
Peripheral circulation has the damaged area
Raynaud's disease
Pregnant
Scar tissue, and the treatment area has the following extreme skin ZhuangTaiZhe, unfavorable for treatment, such as eczema, skin inflammation
The area of skin perception has damaged
Open mode or already infected wounds
Recently had bleeding or bleeding area
Equipped with active implantable medical material patients, such as the heart rhythm, heart defibrillation device, the use of the products the effect of unknown.
Treatment principles
Treatment program is in the selected except the fat part using a specially designed for low temperature cold to probe de-fatting, it can absorb fat tissue of energy (low temperature), and not to other organizations cause damage.
Treatment using a vacuum cup pressure treatment parts of the fat drawn to cooling plate between.
In treatment program, the treatment of probe can precisely control the temperature cooling, it confirmed in a particular part of the body to eliminate fat cells.
When fat cells are accurate control of the cooling milieu, will begin to start natural decomposition and clearance process, make fat layer gradually become thinner.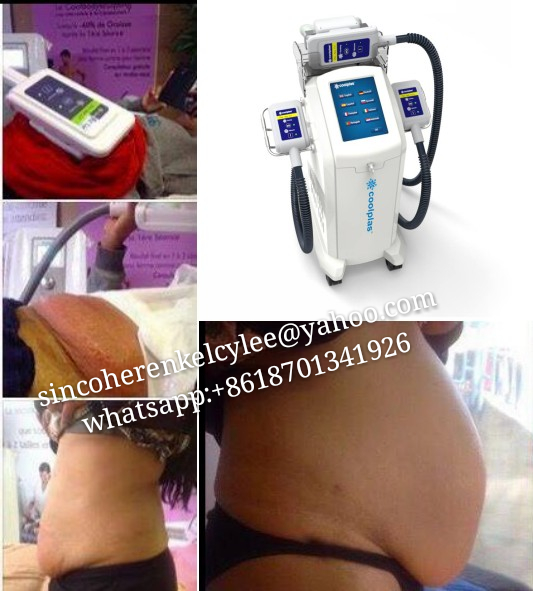 Contact us if you need more details on Cryolipolysis. We are ready to answer your questions on packaging, logistics, certification or any other aspects about Fat Freezing、Cryo. If these products fail to match your need, please contact us and we would like to provide relevant information.
Product Categories : Cryolipolysis